A class action lawsuit was filed in Cook County, Illinois, against the makers of Fireball Cinnamon alleging that the plaintiff used misleading packaging.
On January 7, plaintiff Anna Marquez filed a complaint in the United States District Court Northern District of Illinois alleging a complaint alleging by the Chicago resident misleading labeling of Fireball Cinnamon.
Manufactured by parent company Sazerac, Fireball Cinnamon is a range of products comprising malt and wine-based alcoholic beverages created to capture 'the essence' of the original Fireball Cinnamon Whiskey – but containing no actual whiskey.
Miniature bottles of Fireball Cinnamon are sold at stores across the US that can only sell beer, malts, and wine products, like gas stations and grocery stores, usually for 99 cents — but they're not the same product as Sazerac's better-known spice beverage brand: Fireball Cinnamon Whisky, that actually contains whisky.
Plaintiff's attorneys provided images of Fireball Cinnamon Whiskey and Fireball Cinnamon for comparison. They also provided images of Fireball Cinnamon bottles sold at both a ShopRite supermarket in an undisclosed location and what appeared to be a supermarket.
The lawsuit alleges that the labels of these two different products, "Fireball Cinnamon Whisky" and "Fireball Cinnamon" are virtually indistinguishable and that the malt- or wine-based version of Fireball "misleads consumers into believing so." or spirits."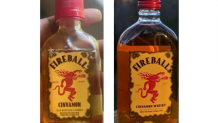 Because of this, Marquez says she bought bottles of Fireball Cinnamon believing they contained whiskey, which is not the case.
A representative for Sazerac, makers of both Fireball products, tells TODAY.com that the company is not commenting on ongoing litigation.
The lawsuit further alleges that, in addition to the product titles being too similar to distinguish, the fine print on Fireball Cinnamon bottles is similarly misleading by writing that the words "With Natural Whiskey and Other Flavors" a "clever twist" of the term" since "consumers who make the effort to read" on the label assume that the phrase "natural whiskey" is a separate article from "other flavors".
"You will think the product is a malted beverage with added (1) natural whiskey and (2) other flavors," the suit reads. "What the label is supposed to say is that the product contains 'natural whiskey flavors and other flavors', but if the word 'flavours' is omitted after 'natural whisky', scrutinizing shoppers will expect the distilled Added whiskey spirit was a separate ingredient."
The lawsuit also states that even if a distilled spirit, such as whiskey, has been used to create flavorings, it loses its classification as a spirit when mixed with other ingredients – allowing the product to be sold in locations where Fireball Cinnan Whiskey is not is.
The lawsuit cites local news that reinforces the idea that the new product has caused confusion among consumers, including a 2021 article from the Hudson Valley Country titled "Since when can you buy Feuerball at gas stations in the Hudson Valley?" ". which asks exactly this question without resolution.
"Fireball at a gas station? I thought you only got that in a liquor store right?" writes author CJ McIntyre. "I mean, it's cinnamon flavored whiskey!!"
"When the label is viewed in conjunction with the Fireball distillate brand name, it misleads consumers into assuming it is or contains spirit liquor," the lawsuit says, adding that federal and identical state regulations do not support the Allowing use of the Fireball brand name on the malt – and wine-based versions, they prohibit "the misleading overall impression created in relation to the 'Fireball Cinnamon' version".
"I'm expecting those little bottles labeled 'Thunderball Cinnamon' to contain whisky."[was] a slight error intended by the manufacturer," says the suit.
The lawsuit alleges that Sazerac violated state consumer fraud laws, violated the express warranty and benefited from unjust enrichment, and seeks to represent "more than 100" plaintiffs in addition to Marquez, who sold the item in "thousands of stores, including grocery stores, major department stores, gas, stock train stations and convenience stores."
On the Fireball official website FAQ page, many of the pre-answered questions address the similarities and differences between Fireball Cinnamon Whiskey and Fireball Cinnamon, including why the company says it developed the malted version in the first place.
"Over the years, we've had feedback from consumers wanting to buy Fireball from a wider range of affordable shopping locations, including stores that can only sell beer, malt beverages, and wine products," reads one of the responses on the Fireball website The company now offers Fireball in around 170,000 stores in the USA, which are only allowed to sell beer, malt beverages and wine products, but no whiskey.
"Unlike Fireball Whisky, Fireball Cinnamon malt or wine products can be sold in beer, malted beverage and wine stores for our fans who want a greater variety of convenience shopping options," it said. "Fireball Whiskey continues to be available in bars, restaurants and liquor stores across the country."
Although plaintiff Marquez is an Illinois resident, the lawsuit filed by Spencer Sheehan and Associates targets anyone in the state including North Dakota, Wyoming, Idaho, Alaska, Iowa, Mississippi, Arkansas, Kansas, Arizona, South Carolina or Utah who bought Fireball Cinnamon. The filing said the amount of damages awarded to plaintiffs if the lawsuit would exceed "$5 million, inclusive of all statutory and criminal damages."
Sheehan is known for filing lawsuits against major food and beverage companies — more than 400 such lawsuits, NPR reported in 2021.
In May 2021, he sued Frito-Lay alleging it didn't use enough real lime juice in its Tostitos "Hint of Lime"; and then, in October of that year, Sheehan filed a lawsuit against Kellogg's, accusing the company of falsely promoting the strawberry content in its Frosted Strawberry Pop-Tarts.
More recently, in November 2022, Sheehan's company represented a woman who filed a lawsuit against Velveeta, claiming that Shells & Cheese takes more than 3½ minutes to make.
This story first appeared on TODAY.com. More from TODAY: