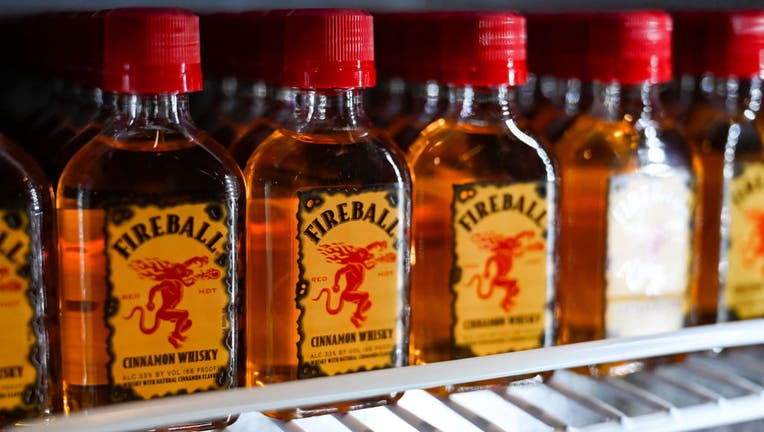 LOS ANGELES – Fireball is under fire.
A class-action lawsuit filed by a woman in Illinois alleges that the shot-sized Fireball bottles sold at gas stations and supermarkets actually contain no whiskey at all, misleading customers who buy the brand's bottles. They are often sold outside of liquor stores for 99 cents.
The lawsuit called the labels "nearly identical" and said the manufacturer intended consumers to make the mistake of what's inside.
The lawsuit explains the difference between the two liquids: whiskey is a distilled spirit, while a malt beverage is a fermentation-based beverage to which flavorings and colorings are later added.
"The use of the words 'With Natural Whiskey and Other Flavors' is a clever turn of phrase because consumers who make the effort to read this will [not] See how its 'natural whiskey' differs from 'other flavors,'" the lawsuit reads. "You will think the product is a malt drink with added natural whiskey and other flavors."
"What the label is supposed to say is that the product contains 'Natural Whiskey Flavors & Other Flavors', but if the word 'Flavors' is omitted after 'Natural Whisky', spying shoppers will expect that the distilled whiskey -Alcohol was added as a separate ingredient," the lawsuit continues.
Fireball Cinnamon first debuted in 2020 and is marketed with the label on the bottle reading "Malt beverage with natural whiskey and other flavors and caramel color" on the label. The sale of malt beverages, which include seltzer, is not as tightly regulated as the sale of spirits.
The lawsuit alleges that Sazerac, which owns the brand, violated consumer fraud laws and seeks to cover plaintiffs in Alaska, Arkansas, Arizona, Idaho, Illinois, Iowa, Mississippi, North Dakota, South Carolina, Utah and Wyoming.
While no specific figure was given in the filing for statutory and punitive damages, the filing said the amount would likely be more than $5 million.
Photos accompanying the lawsuit show the bottles for the larger Fireball Cinnamon Whiskey compared to the miniature bottles labeled "Fireball Cinnamon."
"The bottles look identical except for the word 'whisky' on the front label, which most shoppers looking for alcohol won't even recognize," the lawsuit says.
However, Sazerac has fired back, saying the distinction between the two is clear, despite the bottles and labels looking identical.
According to the FAQ section of the Fireball Whiskey website, customers can tell the products apart by: