Waco, Texas — The meat of the Big 12 conference schedule continued a mighty fight for No. 9 Kansas Monday night, with the Jayhawks falling to 17th-ranked Baylor, 75-69, at the Ferrell Center.
The loss was the third straight for the Jayhawks – all three against ranked teams – who fell to 16-4 overall and 5-3 in Big 12 play after winning their first five games on the conference schedule in exciting and grueling fashion.
KU most recently lost three games in a row in the 2020-21 season and has fallen to Oklahoma State, Baylor and Oklahoma in consecutive games this season.
"Nobody will feel sorry if we lose three times in a row," said KU Junior Jalen Wilson after the loss. "We are Kansas; So they just want us to lose. We just have to find a way to recover and just get together more."
Though the Jayhawks clinched tough wins over Oklahoma, Oklahoma State, Iowa State and Texas Tech earlier this season, the closeness of those games might have been a sign of trouble to come, with hindsight, and the Bears and TCU Horned Frogs hit those Jayhawks like a freight train in the last days.
"This team did really well, but this team did really well and got lucky with their good performances," KU coach Bill Self said earlier in the week.
That luck has been nowhere to be found in the last three games and Monday night was certainly no different.
After another bumpy and sluggish first half with pretty much everything going wrong, the Jayhawks played their best five minutes of the past week and actually took a point lead early in the second half.
The lead lasted exactly 52 seconds. Baylor (15-5, 5-3) and his home crowd woke up and reacted with a vengeance, and Kansas never came closer than five points in the final 12 minutes of the game.
"That was a good Baylor team," said KU guard Kevin McCullar Jr. "It was another Big 12 fight. It was definitely a running game. We played it to the max and it didn't go in our favour."
Added Self, "I didn't think we played badly, I just didn't think we rebounded very well."
While Baylor guards LJ Cryer and Adam Flagler had a combined 39 points on 7-of-20 3-point shooting, the Jayhawks were 17-8 on the offensive glass to beat. Self said those extra chances played a big part in the result for the Bears, who shot just 37% for the night but fired 10 more shots than Kansas.
photo gallery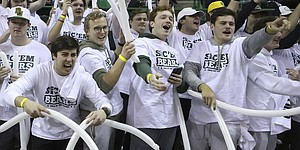 "We just didn't throw basketball back," he said. "You know, when you're changing that much and you're that small, you have to be able to fight on the glass. … Their players were simply better offensively than we were defensively."
For the game, BU passed Kansas 35-33.
The final dagger — late chants of "overrated" from the BU crowd — came when Baylor's Jalen Bridges hammered home a breakaway dunk after a turnover from Dajuan Harris that stopped KU from breaking into the BU lead and to bring the Bears to 70-61 with less than three minutes to play.
KU freshman Gradey Dick (24 points) and Jalen Wilson (23) led the Jayhawks in scoring Monday night, with McCullar adding 14 points.
But once again, it was the Kansas defense and the Jayhawks' inability to string stops together or make Baylor uncomfortable that led to the loss.
After hitting his first 3-point attempt of the game, perhaps signaling the imminent end of the mini-shooting slump he'd been suffering of late, Dick canceled his second foul at 16:49 to go in the first halftime play, and sat down for the next 7:24 of game action.
His triple pulled the Jayhawks 5-3 to two, but the Bears rattled a 15-4 run from there to take a 20-7 lead. The Jayhawks turned it over five times in the first five minutes of the game and also watched Baylor hit three of his first six 3-point attempts to build that lead.
For the game, Baylor finished 9-of-30 from 3-point range, making up for a kind of warning Self issued after KU's loss to TCU last Saturday when he said KU could go to Waco and play better and still got hit because Baylor threw in a series of 3s.
That's exactly what happened when the Bears' deep shots hurt the Jayhawks in both halves.
"Well, it's three games in a row," Self said as he watched the Jayhawks fight their way out of goal. "It's probably more than that. I think we can certainly be better in that area, but I'll be honest with you on how K-State played the first 10 minutes, how TCU played the first 10 minutes and." The way Baylor played the first 10 minutes, if we played really well we would still have been behind. These three teams played great. I mean, Baylor gave everything they set out to do to start."
After garnering first-place votes in the AP poll for consecutive weeks, Kansas suddenly finds himself in one of those funks where it just seems like everything they do looks difficult. Monday's game had many such moments.
"When you dig a hole early on, it's definitely hard," McCullar said. "You always want to be the one on top. But you're going to have to win games like that at some point, in this league and beyond in March Madness. So we just build on that. We watch the tape, learn from it and are ready for the next one."
After Ernest Udeh Jr. did an admirable job of perimeter guarding the faster, much more confident BU guard Adam Flagler to force a miss, Joe Yesufu sniffed the rebound, which essentially came straight at him. The slip resulted in two free throws for the Bears, who took a 27-16 lead.
On a couple of subsequent possessions from KU, Udeh struggled to secure even a post catch – while posting well outside the paint – and McCullar couldn't find anyone to put the ball under the KU basket. He eventually got it in, but only after Dick tackled the ball in the air to maintain possession for the Jayhawks.
Few errors summed up KU's struggles better than four narrow misses on the rim midway through the second half that the Jayhawks would have drawn within four.
All four misses – three by McCullar and one by Adams – were contested by Baylor defenders, but their importance was drastically magnified when Langston Love converted an old-fashioned three-point play on the next end, going straight through Harris on his way to the basket .
That brought the Bears back by nine and completely wiped out whatever good Kansas had done to take the lead after trailing by seven (41-34) at the break.
"We've played pretty well up to this point," said Self after the defeat. "And they ran away right after that, and then we could never catch up."
Later, after the Bears narrowed their lead to a dozen, Wilson and Harris shockingly missed consecutive 3-pointers, with Wilson's miss from backboard rattling off the left of the rim and Harris not even getting to the rim.
After returning late Monday night, the Jayhawks will spend the remainder of the week resting and regrouping for Saturday's game in Kentucky in a battle of the two most successful programs in college basketball history that today is very different looks as on schedule as the season opens.
"The good thing is that we don't play again until Saturday," said Wilson. "So we can rest a bit, regroup a bit and just be aware of what we need to do better."
McCullar added when asked what's next: "Get back to work. That's all you can do. short-term memory. That's what Coach Self tells us. Learn from it. Have a great prep week and get out there and compete."
Saturday's game in Lexington, Kentucky is scheduled to air during the Big 12/SEC Challenge at 7:00 p.m. on ESPN.