GREELEY — When Kim Collins learned from Greeley that Larry Pottorff was retiring as CEO of North Range Behavioral Health, she hoped someone who understood "this work, this community and this agency" would take over.
"(Through) dialogue with our community partners and our internal system, I realized that I know the areas where we're struggling. I know the areas where we're great," Collins said. "I know Larry's heart and the heart of North Range, and I know our values. I know our strengths and I know our growth areas as an agency."
Collins stepped into the role of CEO of the Weld County agency on November 1, a month before Pottorff officially retired on December 1. Pottorff was CEO for 12 years and with North Range for 39 years.
"He's done a great job of really creating and maintaining a wonderful agency," Collins said. "He has a heart for customers and he has a heart for our community."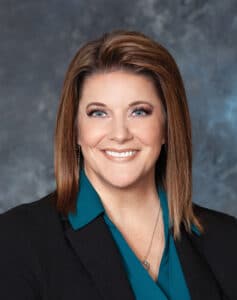 Collins is North Range's first female CEO following the footsteps of "incredible CEOs who happen to be men," she said.
"I'm so excited and I'm so impressed," Collins said. "I am pleased that some of our employees see representation from many different people at all levels."
Collins describes North Range as neither a perfect nor a broken system, but she wants to improve it while making sure what works stays. To accomplish that, she's set three key goals for her next year as CEO — to lead the state's new Behavioral Health Administration, address a labor shortage, and replace a large number of senior-level employees who lost their jobs over the past year have retired.
The BHA, housed within the Department of Human Services, coordinates and collaborates with the delivery of government agencies that provide behavioral health services.
"Of course there will be changes with that," Collins said. "It will ensure our system is ready to be agile enough to pivot and embrace some of the changes that are coming our way."
At the same time, North Range faces a labor shortage, which the agency will address by evaluating what is working for employees and soliciting feedback from job applicants and employees who have left the system, Collins said.
"What changes can we make to be an Employer of Choice?" said Collins. "We want people to want to work for us. … We will adapt the system to recruit and retain really talented people."
In addition to normal turnover, North Range has had additional vacancies after eight retirements.
"There's always an element of excitement and an element of fear," Collins said. "We just have to stay on our toes to make sure we're preparing our replacements… so they can bring fresh air and innovation and fill in the gaps… as quickly as possible."
Behavioral health is experiencing changes at the state level, but also at the national level, driven in part by the COVID-19 pandemic, which is disrupting mental health care from the isolation, disconnection, and higher rates of residence-induced depression and anxiety destigmatized home orders. The providers reacted by adjusting the supply, e.g. B. the introduction of telemedicine appointments that no longer have to take place in an office environment and shorter sessions in solution-focused brief therapy.
"There's a lot of need out there," Collins said. "So many people come forward and want to talk to someone."
Behavioral health is complex as multiple factors come into play such as: B. A combination of substance abuse and mental health problems, which may be situational or lifelong. Solutions are not quick and easy, but can include medication, therapy, psychoeducation, and anger management.
On the business side, there are multiple payer sources and grant and funding streams that are balanced against serving customers ethically and appropriately while remaining fiscally responsible, Collins said. Clients may be asking for services that North Range doesn't currently offer, and the agency will respond by meeting that need or offering something else that's even more helpful, she said.
"Our people are amazing at really seeing what a customer needs, what a customer wants and what's in their best interest," said Collins. "How can we fill in the gaps, even if this is not traditionally the case?"
Collins worked for North Range for eight years before becoming CEO. She served as administrative director for seven years, overseeing youth and family programs and the crisis response team, before becoming chief clinical officer responsible for service delivery. She was also director of clinical programs at Diversus Health in Colorado Springs, formerly Aspen Pointe, where she worked for three years, and regional operations director at Centennial Mental Health for three counties in eastern Colorado. She worked there for six years, initially as a clinic doctor and specialist for young children. She was also an adjunct professor at Morgan Community College in Fort Morgan.
"As a clinician, I have helped families, substance abuse, rural areas and children in schools. It's been a great help for me in understanding the clinical work," said Collins. "It helped me to understand customer needs and their complexity. There is no one-size-fits-all solution and resources are limited."
Collins has a bachelor's degree in human development and family relations and a master's degree in education with a focus on community counseling. She became a Licensed Professional Counselor in Colorado in 2007.
Throughout much of her career, Collins has held positions of increasing responsibility such as supervisor, manager, director, administrative director and chief clinical officer.
"Each time I've changed roles, I've really been able to see the mental health system from different perspectives and understand the different challenges at each level," Collins said. "The challenges on the ground floor, seeing the clients, are different than the challenges from (the point of view of) the chief clinical officer or CEO."
"Getting different perspectives on North Range's operations will help Collins assess how to move the system forward and positively impact customer service," she said.
"I know enough about our system and the delivery of care that I can now look through the CEO lens and make impactful changes and not change things that don't need to change because they work and the customers will benefit," said Collins .
According to her staff, Collins has the leadership skills to make these changes.
"Kim was an experienced clinician and a genuine leader who seeks feedback," said Tamara McCoy, Administrative Director. "I have seen her serve in many capacities here at North Range and I am confident that she will lead us in bold and inspiring ways."
Liz Faris, also Administrative Director, agrees.
"Kim Collins is a bold, skillful leader who has a passionate vision to best serve our clients," said Faris.
As part of this leadership, Collins enjoys learning about the various teams at North Range such as information technology, operations and data software.
"I knew how to navigate it to get the clinical information I needed. I didn't know how the programs work inside and how the teams work," Collins said. "It's kind of cool to see passion, creativity and innovation that I didn't even know was there. … They are heroes behind the scenes who make our system work in such a beautiful way."