With we just six days away from the end of the regular season, it's time for the craziest aspect of college football, the transfer portal.
Programs across the country are expected to lose dozens of players to the portal as we saw over 8,000 players enter their name into the portal last year. From Stanford alone, 10 players have already registered in the portal.
Of course, the large influx of transfers can be due to a number of reasons, such as: B. Playtime, zero opportunities, or moving closer to home. The main reason we're seeing so many players making transfers, aside from being a lot of them this COVID year, is the fact that they don't have to sit out a season if it's their first transfer. So this leads to players visiting the portal as soon as they feel their current school is not right for them.
The caliber of players entering the portal is extremely high, and one of the positions that some highly acclaimed players enter the portal is the quarterback position. Last season we've seen the likes of Quinn Ewers, Caleb Williams, Spencer Rattler, and Michael Penix Jr. find new homes through the portal, and this season seems to have another very rich quarterback market.
Thanks to the newly introduced transfer window, the portal will officially open on December 5th. This means that FBS players are limited to December 5th – January 18th to enter the portal before the next window opens between April 15th – 30th. Graduate transfers can still occur at any time, and players whose head coaches leave the portal can enter the portal immediately for 30 periods, regardless of when the switch occurred.
With that said, let's take a look at some of the big transfer quarterbacks who have announced their intention to transfer and who they may be linked with!
Hudson Map (Texas)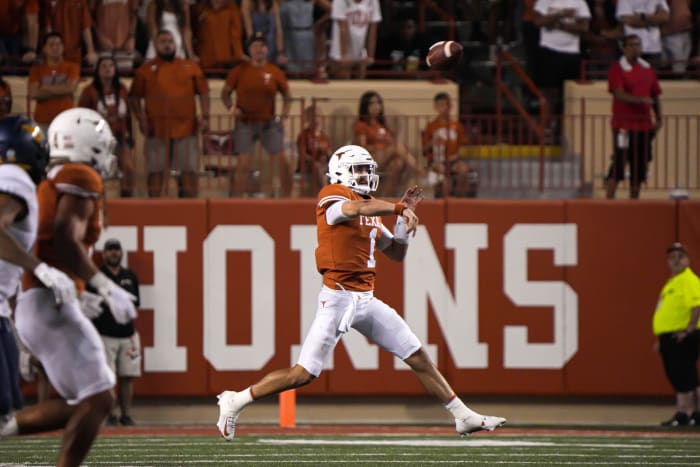 A former Top 60 recruit, Card just never got a chance to be the guy in Texas. When he came to campus, Sam Ehlinger was there, and then he had the opportunity to win the starting job in Steve Sarkisian's freshman year. However, after winning the job and starting the first game, he was pulled in the second week after a rough performance and lost his starting job. With a chance to win the job again in the offseason, former five-star Quinn Ewers made the switch and won the job via Card.
The upside for Card is the fact that he shone in the three games he started this season when Ewers went under, which is why he's currently considered one of, if not the, best quarterback on the portal. He's everything a program could want from a signal caller in college football today. He's got a good arm, and although he didn't get to show it often, he's extremely athletic.
Possible fits: Notre Dame, Alabama, Georgia
Brennan Armstrong (Virginia)
After being one of the most dynamic passes in college football with 31 touchdowns a year ago, Armstrong hit a big wall this season with just 7 touchdowns and 12 picks. Regardless of this difficult past season, Armstrong will have a chance to start fresh elsewhere and prove why he was once considered one of the best quarterbacks in college football.
Possible fits: Notre Dame, Wisconsin, BYU
Jeff Sims (Georgia Tech)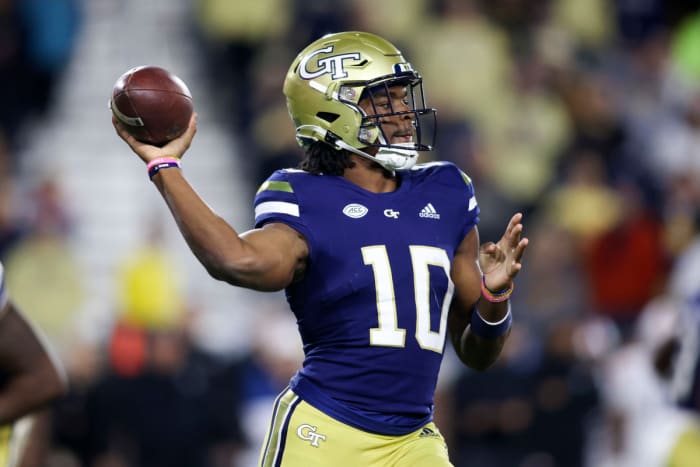 Jeff Sims, a former highly acclaimed four-star recruit who shocked the nation when he decided to commit to Georgia Tech over Florida State, has shown plenty of potential. He wasn't the real star we thought he was due to some injury issues and inconsistencies.
He will have many admirers on December 5, but unlike the previous two, it may not be a prime team. He needs a system that allows him to use his feet and also develop as a passer. His 30 touchdowns to 23 interceptions and 57% completion percentage show he certainly needs some fine tuning. However, if you ever see him play, you'll understand why he's such an intriguing prospect.
Possible matches: Louisville, Kentucky, Michigan State
Phil Jurkovec (Boston College)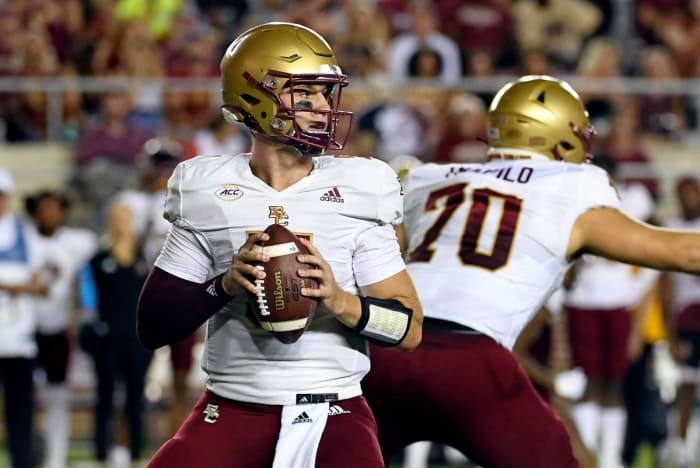 As a four-star recruit, Jurkovec had programs like Ohio State, Alabama, and Penn State that succeeded him. He eventually decided to go to Notre Dame where he was behind Ian Book and eventually decided to transfer to Boston College. He had a strong first year at BC, throwing for 2,500 yards and 17 touchdowns. However, injuries held him back over the next two seasons.
Despite his injury woes, many expect him to end up with a huge program that needs a quarterback.
Possible matches: Pitt, Penn State, Ohio State
Hank Bachmeier (Boise State)
Hank Bachmeier was one of the best Group-of-5 quarterbacks in the country. The four-year-old Broncos starter threw for over 6,000 career passing yards with 41 touchdowns and 19 picks. This season didn't go as planned and he decided it was time for a fresh start.
Injuries have always been a concern for him, but he'll still get a lot of requests from programs that feel like they're a quarterback away. He also has the potential to stay there for two more years as he left ahead of his fifth game of the season.
Possible matches: Virginia, BYU, Kentucky