From Christmas tree lighting to other festive activities, cities and towns across the state know how to get into the holiday spirit.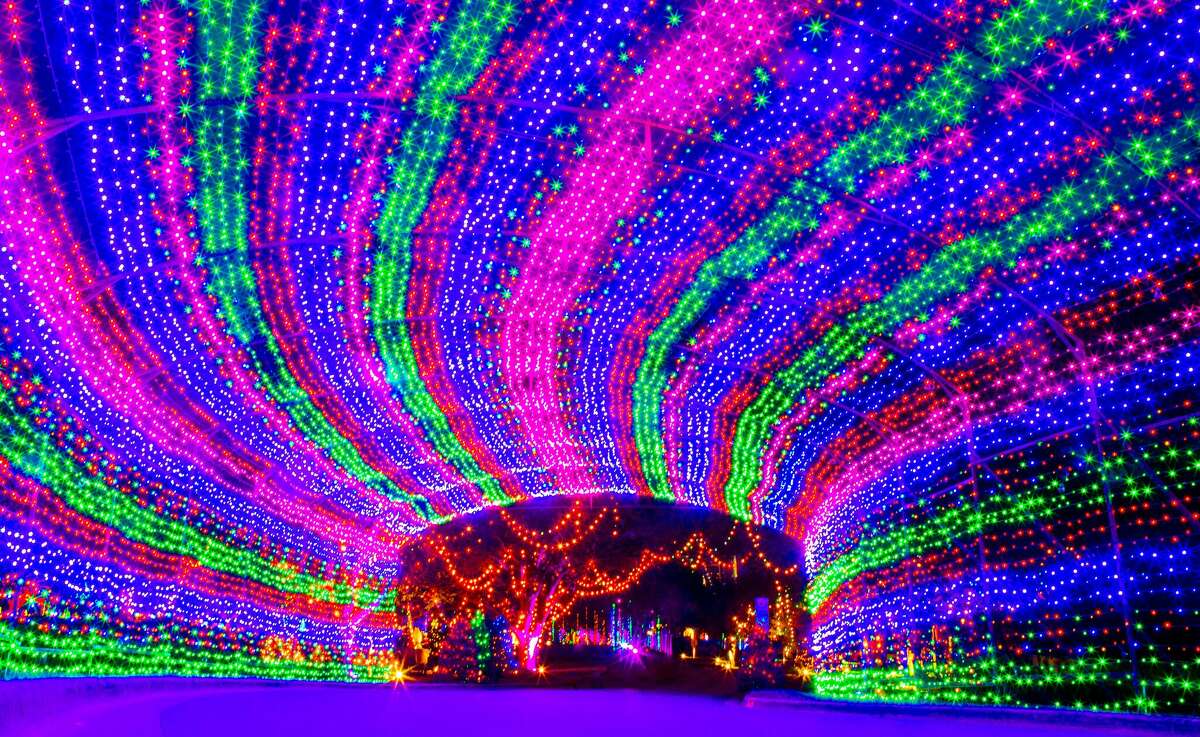 The Christmas lights at night are big and bright throughout Texas this season, whether at community events or self-guided tours of lavishly decorated neighborhoods. Sure, you can fuel up in Houston, but there are lights and Christmas trees to see elsewhere if you're willing to drive a bit or are already on the road to visit friends and family. Here are 12 holiday events and light shows wherever you are in the Lone Star State this season.
Houston: Lightscape at the Houston Botanic Garden
---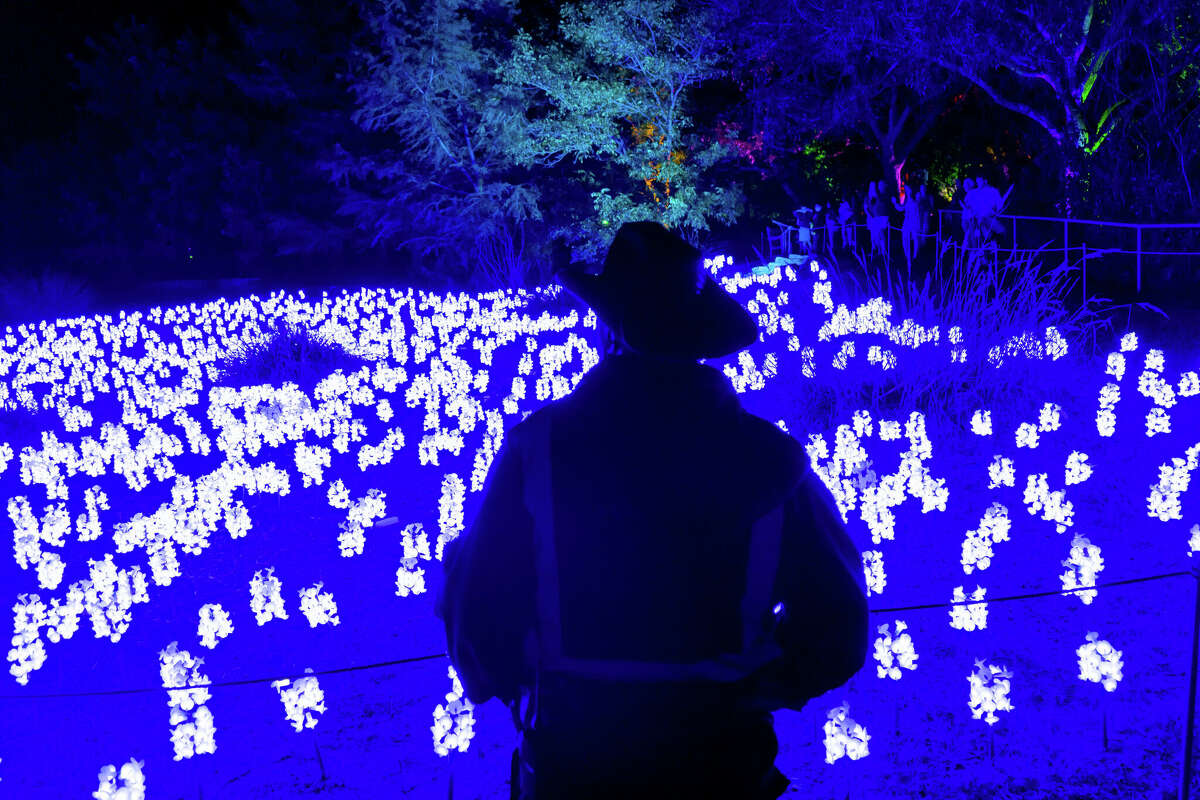 The Houston Botanic Garden is beautiful year-round, but it gets a little brighter during the holidays for Lightscape's second year. The garden path is lined with light installations by artists from all over the world. Debuting this year is the Texas-exclusive Bluebonnets installation, a field of 2,000 flowers created with LED pixel lighting.
November 18th to January 1st
Houston: Space Center Houston Galaxy Lights
---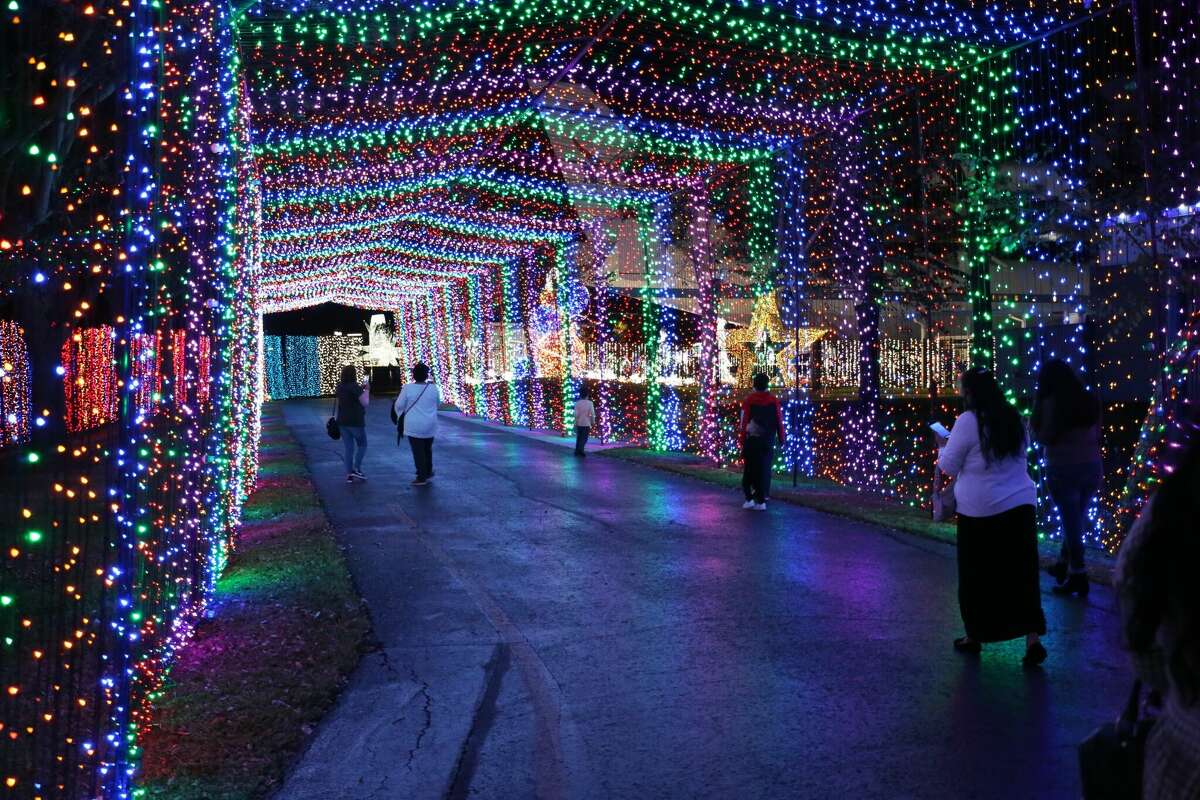 The Houston Space Center puts the galaxy within reach with its annual holiday event, which includes interactive displays, a light tunnel, and educational experiences for space-obsessed kids (and adults). New this year is the Deep Space Backyard, where you can walk under the stars and see giant displays of astronauts exploring space.
November 12th to January 1st
Austin: Light trail
---
The Texas capital transforms Zilker Park into a holiday wonderland each year, bringing out more than 2 million lights, 90 illuminated Christmas trees and more than 70 other displays. This year also marks a return to its traditional walk-thru format after two years of the drive-thru version. Be sure to grab some corn and then visit the giant Zilker Holiday Tree.
8th to 23rd December
College Station: Santa's Wonderland
---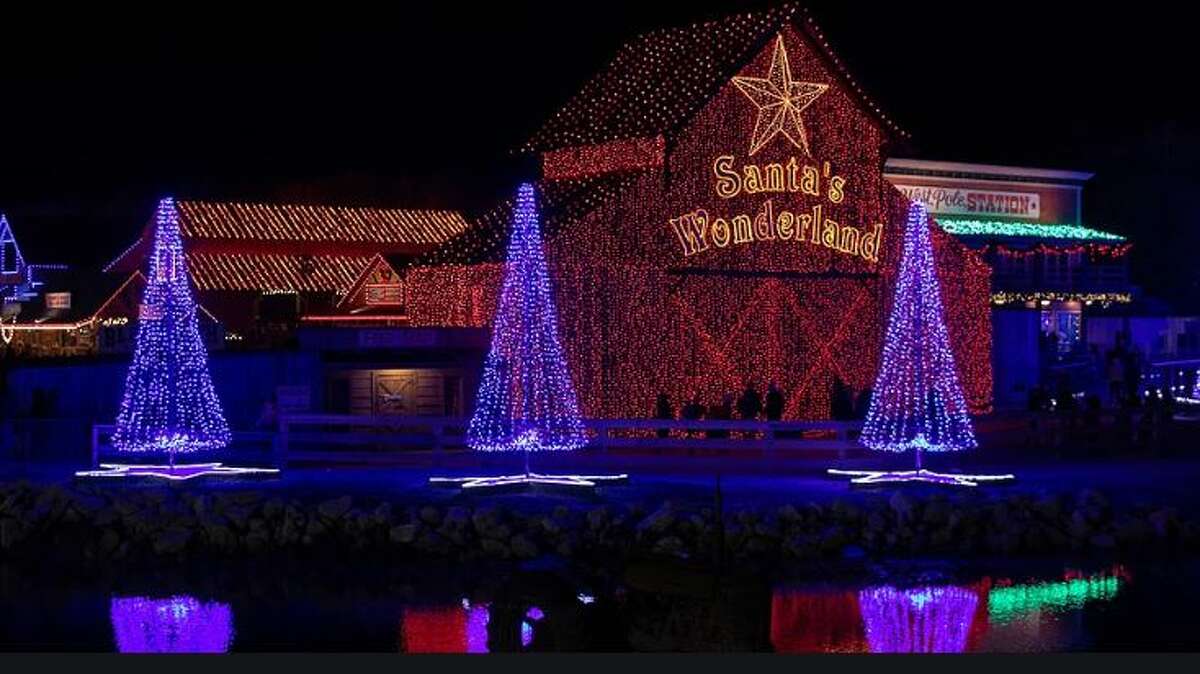 Aggieland's bank holiday celebration is going big, with 4 million lights stretching across 130 acres. General admission tickets include a hay ride through the lights, but private horse-drawn carriages are also available. Children can visit the clauses and drop off letters to the North Pole at Santa's Station. At Santa's Farm you will find ice skating; a "playground" to play in real snow; a walk-in chain of lights; the West Pole Express, a lighted Christmas train from Texas; a petting zoo and more. Warm up and enjoy s'mores in the West Pole's roasting pits at the end of the night.
11 Nov to 30 Dec
Fredericksburg: Christmas Nights of Lights
---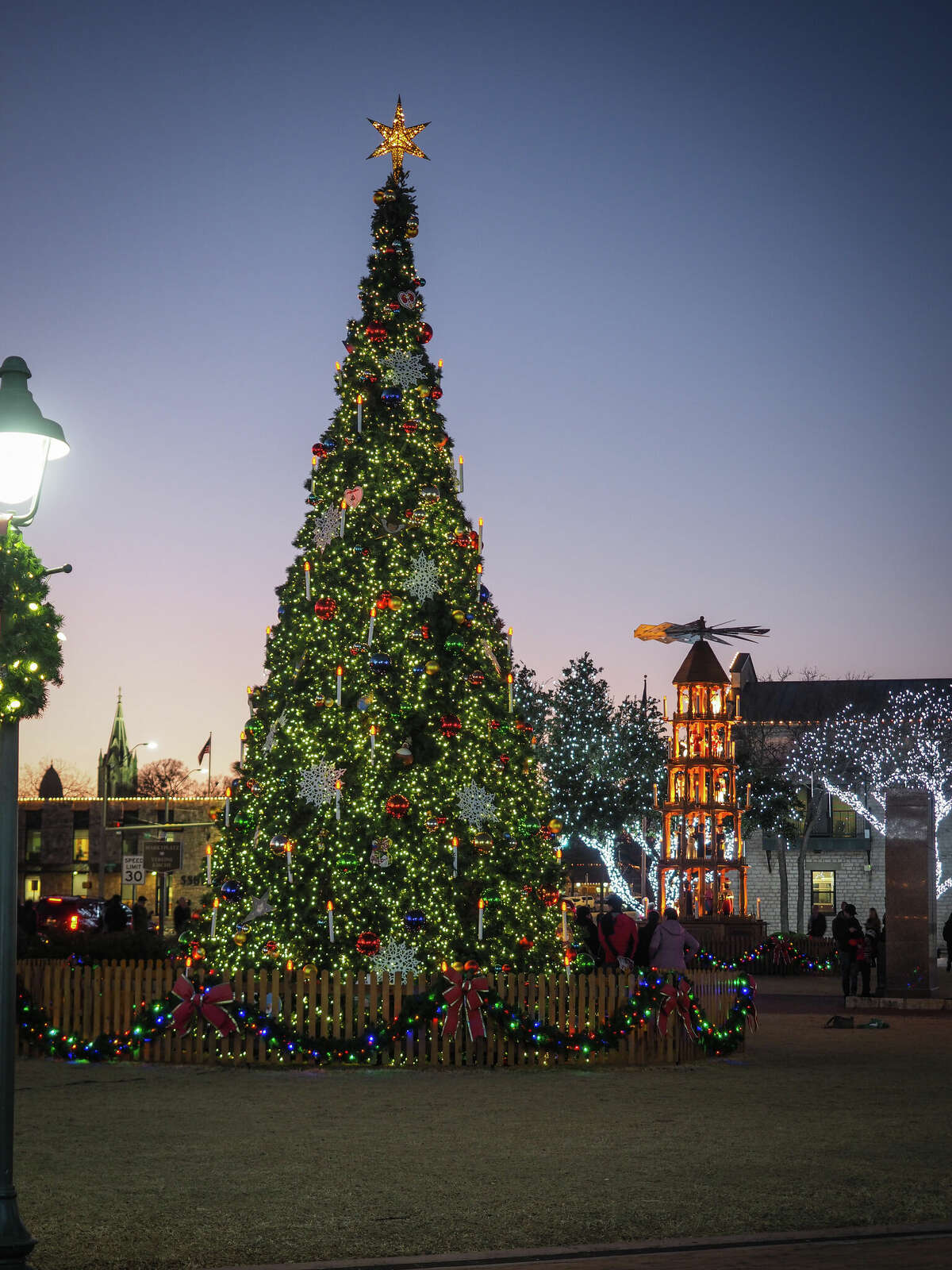 Fredericksburg flaunts its German heritage in its market square at Christmas. Shop for the friends and family on your list, listen to an audio presentation about the city's German history, and watch a nighttime illumination of the community's Christmas tree and the German Christmas Pyramid — a 26-foot-tall wooden pyramid used in Germany was manufactured in 2009, specifically for Fredericksburg.
November 22 to January 6
Galveston: Moody Gardens Festival of Lights and more
---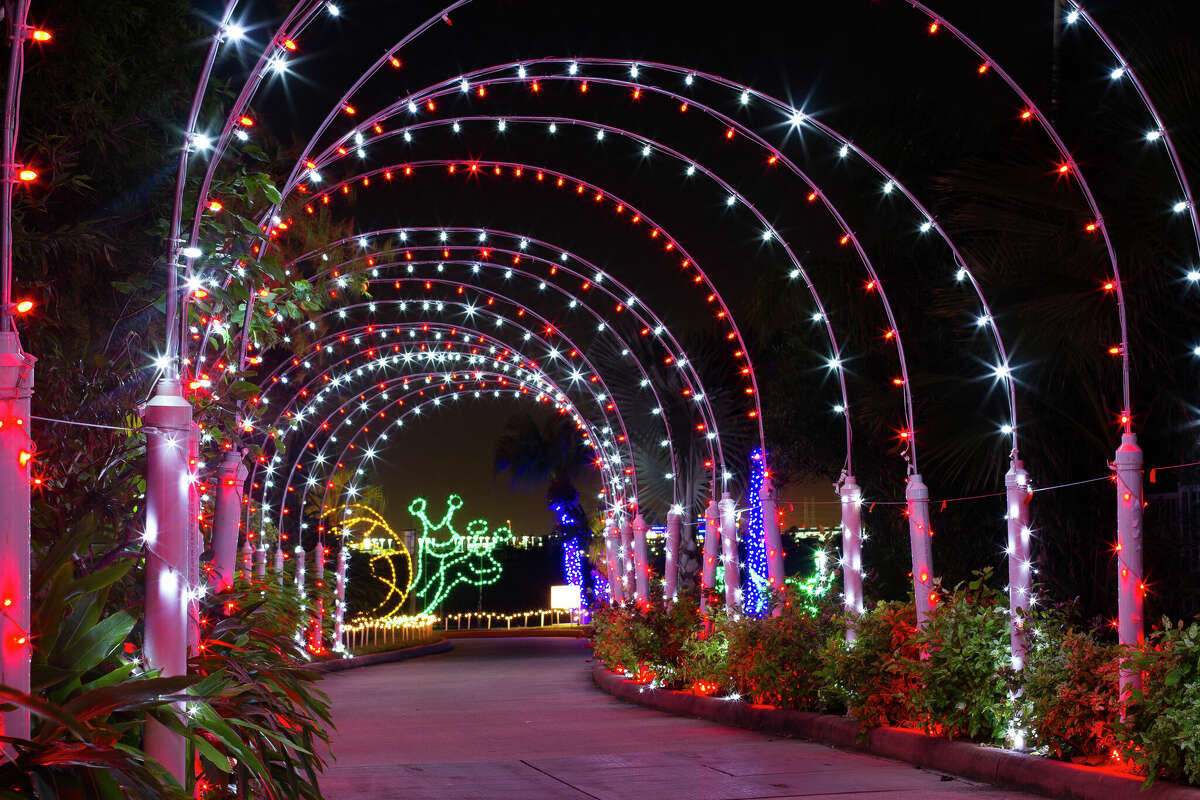 Just because there's no snow on the beach doesn't mean Galveston can't celebrate Christmas with the best. Moody Gardens is back with its annual Festival of Lights featuring 2 million lightbulbs along a mile-long pathway, as well as the underwater ice sculpting experience, ICE LAND: A Caribbean Christmas. Elsewhere, the Galveston Railroad Museum's immersive train experience to the North Pole, The Polar Express Train Ride, runs through December 23, and history and architecture buffs can enjoy the island's Victorian architecture on the East End Historical District's Victorian Christmas Homes Tour, which takes place on December 2nd.
November 19th to January 7th
Grapevine: Christmas at Gaylord Texan and More
---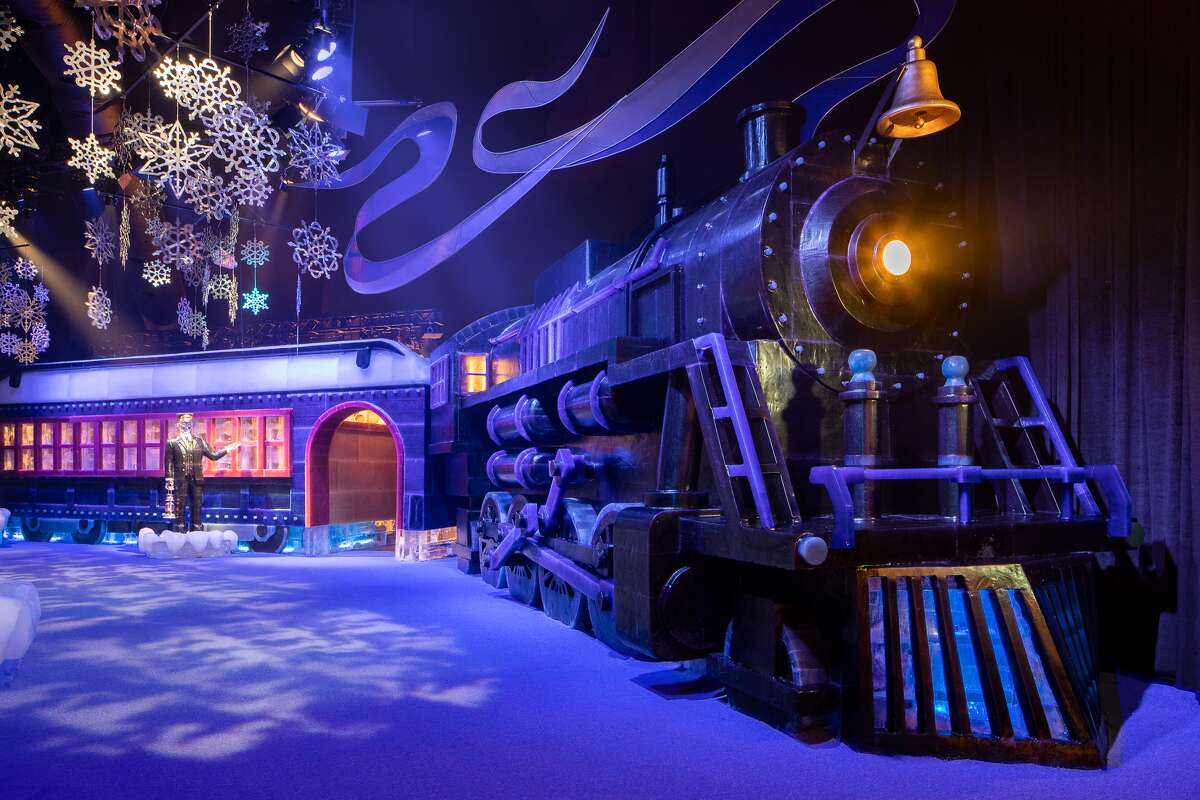 Grapevine bills itself as the Texas Capital of Christmas, and there's likely something for everyone as the north Texas city hosts 1,400 Christmas events over 40 days. The Gaylord Texan Resort & Convention Center in Grapevine is a major draw for vacationers, where the annual interactive ice sculpture ICE! takes place, which includes 2 million pounds of carved colorful ice and an ice slide. This year's theme: The Polar Express.
November 11th to January 1st
Johnson City: Spectacular Lights
---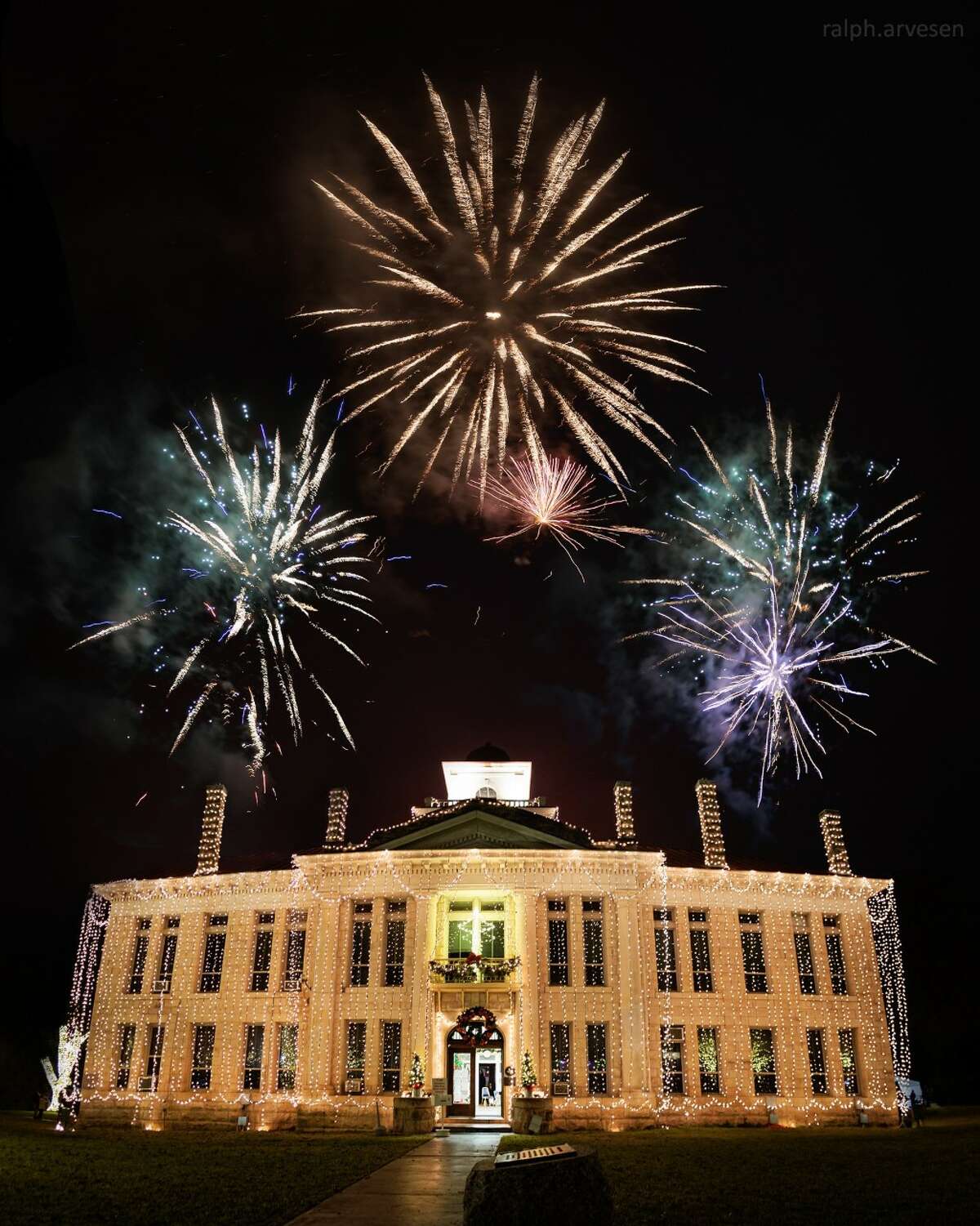 Once the home of Lyndon B. Johnson, Johnson City knows how to stage a holiday exhibit. The Pedernales Electric Cooperative lights its Johnson City headquarters with more than 1.3 million LED bulbs, making the city so bright NASA has reported seeing it from the International Space Station. You can walk or drive through downtown Johnson City to enjoy the lights, or take a horse-drawn carriage ride.
November 25th to January 8th
New Braunfels: Santa's Ranch
---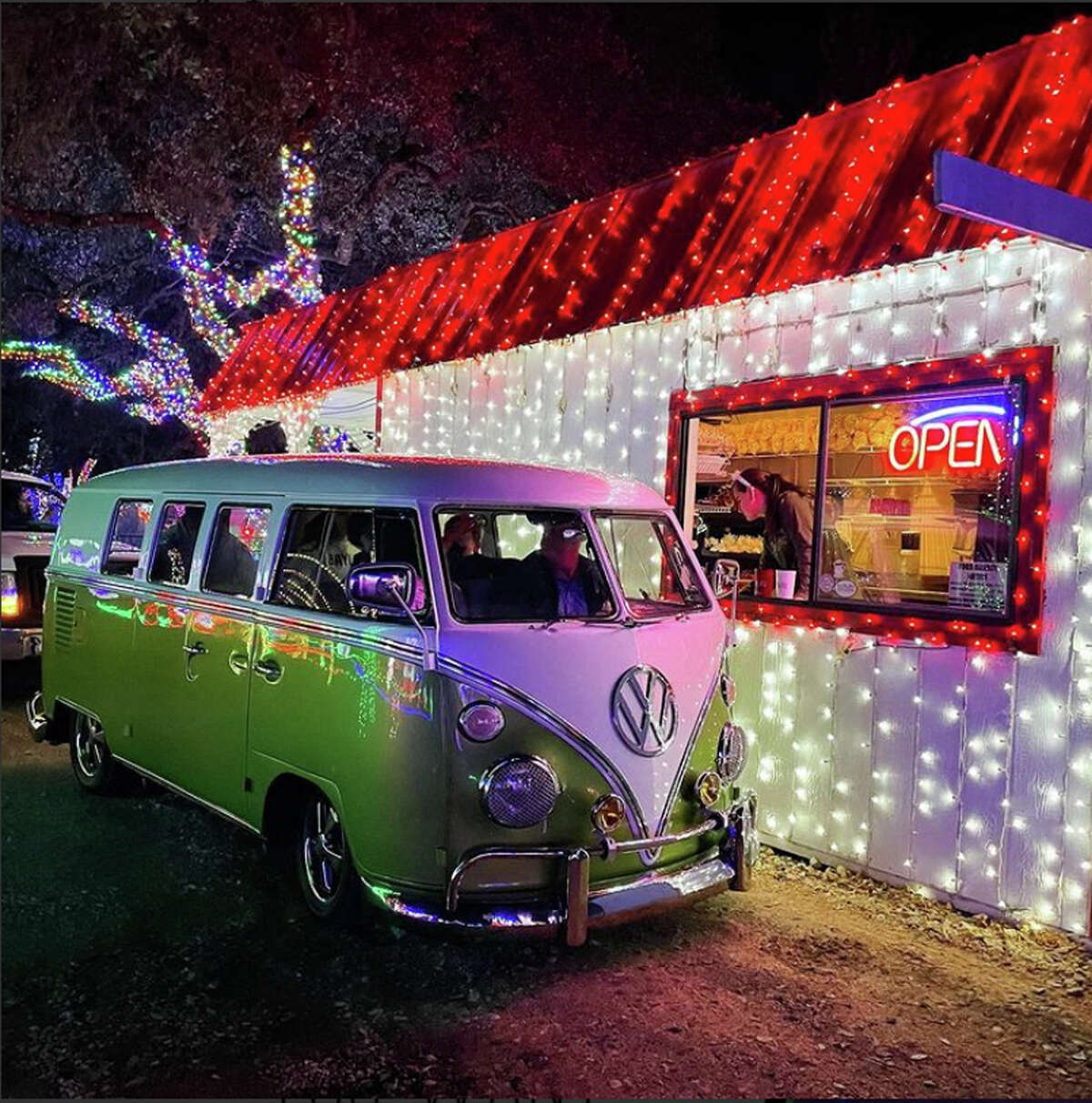 Driving through Santa's Ranch at Christmas time is a holiday tradition in New Braunfels, where more than 1.5 million lights twinkle brightly. Tickets give visitors access to concession stands full of goodies and hot cocoa, as well as a range of festive exhibits. They cost $35 per vehicle, with a $70 season pass.
November 11th to January 1st
Odessa: Starlit Village
---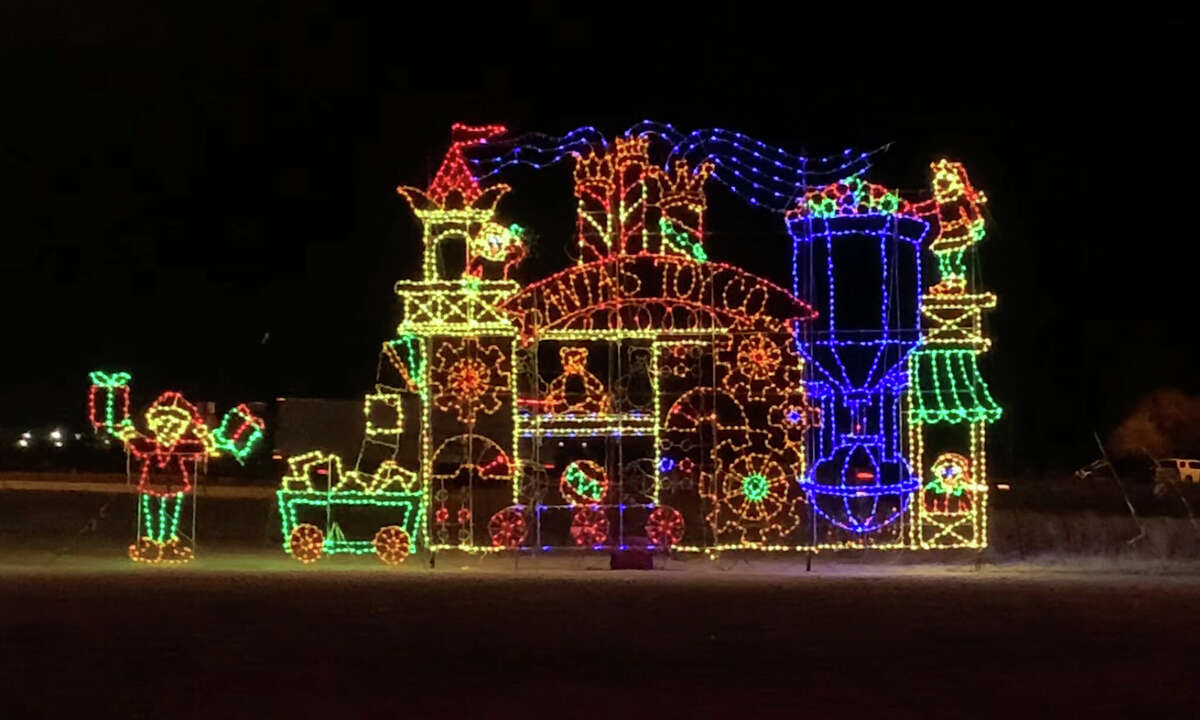 For those heading west this season, Odessa has the greatest splendor of lights in the Perm Basin. Walk or drive through McKinney Park to see Christmas displays and more than 300,000 lights. It all begins with a December 1st tree lighting ceremony featuring performances by local school choirs.
December 1st to January 1st
San Antonio: River Walk Christmas Lights
---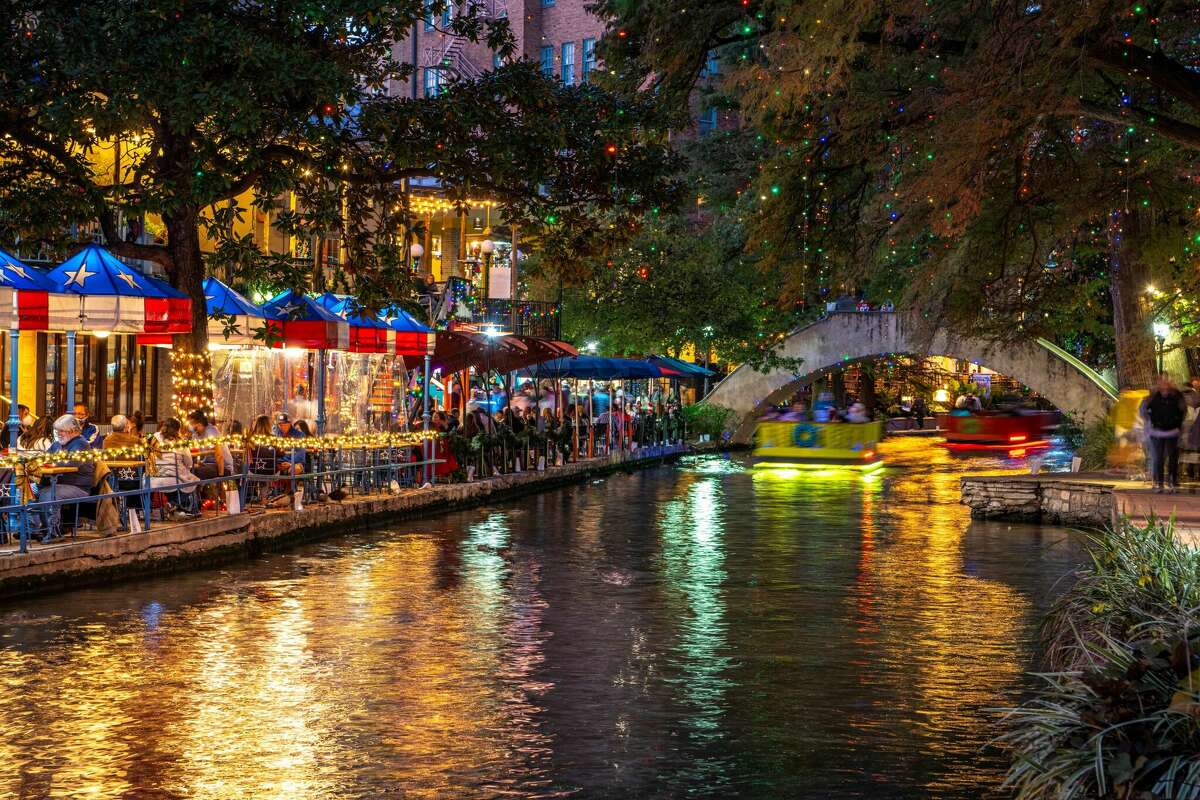 The San Antonio River Walk is an iconic Texas destination year-round, but at Christmas time, 2,250 strings of lights are draped across the river. From December 1st to 23rd, the river also plays host to the boat singers: boats can be hired for an hour for those with the singing pipes to enjoy Christmas caroling. Those who prefer to listen can enjoy on the banks of the River Walk or on the restaurant terraces.
November 25th to January 9th
Waco: Christmas at the Magnolia Market in the Silos
---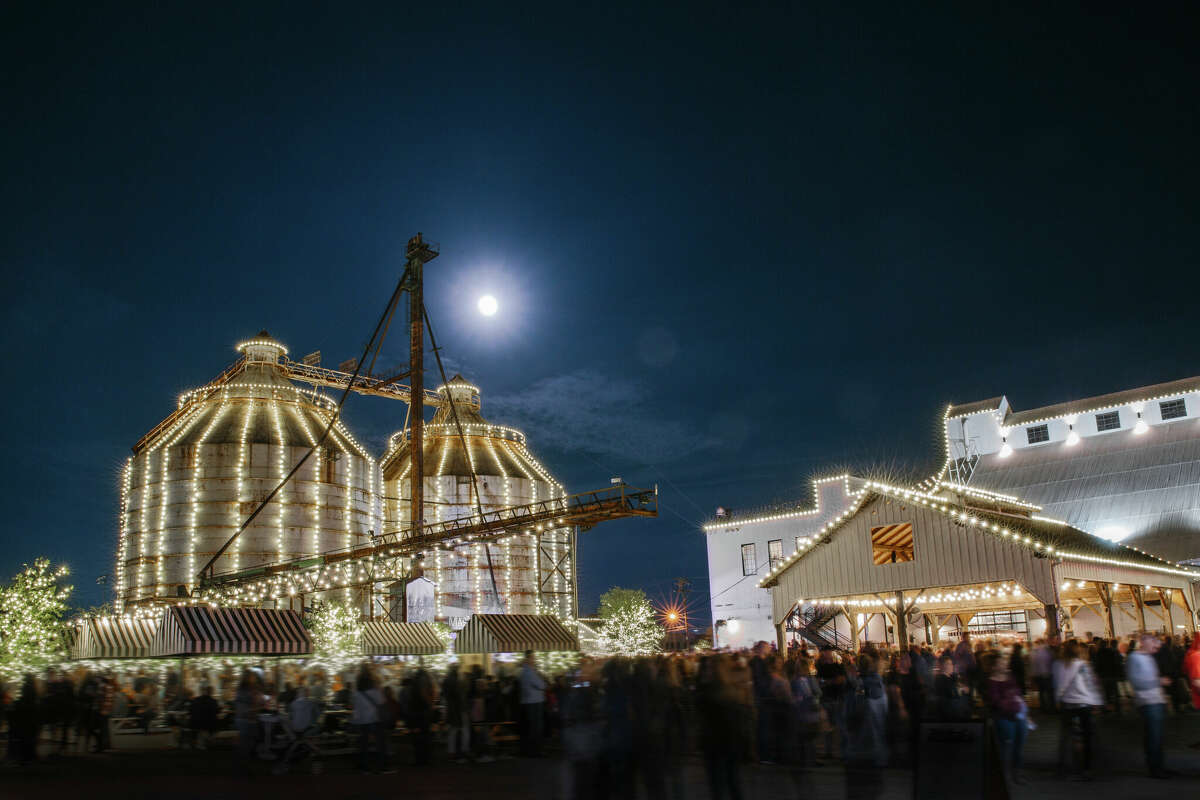 Chip and Joanna Gaines' Mecca for Fixer Upper fans is getting the holiday treatment for their annual event. You can do some Christmas shopping and Santa will be there every Friday and Saturday to hear Christmas wishes and take photos. On December 7th, the Waco Community Band and the Baylor VirtuOSO and Jazz Ensemble will perform as part of "A Very Merry Evening" benefiting the Waco non-profit organization The Cove.
25 Nov to 25 Dec