The joint DHS and Montclair State program will assist law enforcement in human trafficking cases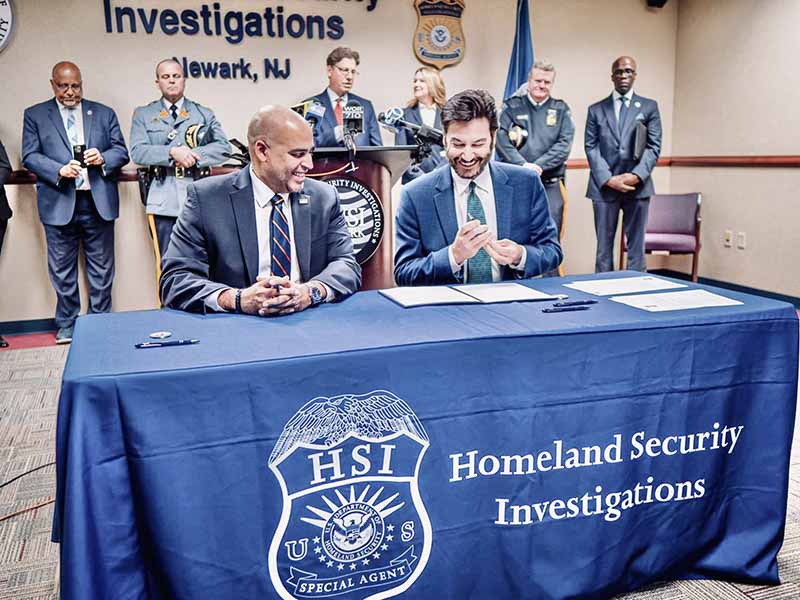 The Global Center on Human Trafficking (GCHT) at Montclair State University and the Department of Homeland Security's Homeland Security Investigations (HSI) Newark Office signed a Memorandum of Understanding on Jan. 25 to develop a web-based application and website to assist in the fight against human trafficking.
The agreement was signed during a special event at the HSI Newark Field Office and included remarks from Ricky J. Patel, HSI Newark Special Agent in Charge; Jonathan Koppell, President of Montclair State University; Ali Boak, director of the Global Center on Human Trafficking; Phillip R. Sellinger, United States Attorney for the District of New Jersey; Col. Patrick J. Callahan, Superintendent, New Jersey State Police; Esther Suarez, Hudson County Attorney; Theodore N. Stephens II, Essex County Attorney; Fritz G. Question, director of public safety in Newark.
The event ended with the story of human trafficking survivor and victim advocate Treia Boozier.
The digital resources are designed to provide New Jersey law enforcement agencies with information and resources that victims of human trafficking may encounter.
As part of the partnership, GCHT and HSI-Newark will work together to ensure new resources include best practices, up-to-date law enforcement contact information and touchpoints, and de-identified data used to develop research and strategic initiatives developed by GCHT and HSI -Newark's Anti-Human Trafficking Center.
The goal is for the application and website to become a national model that can be used to develop similar resources in other states. The development of the resources will start this spring and the initiative will be tested in the autumn.
New Jersey is considered a human trafficking hub due to its location near several major metropolitan areas, including New York, Baltimore, and Philadelphia. According to the National Human Trafficking Hotline, both sex trafficking and labor trafficking occur in New Jersey.
"We are very pleased to partner with HSI-Newark and their expertise as the premier federal law enforcement agency tasked with combating human trafficking," said Boak. "Unfortunately, human traffickers operate largely with impunity as the vast majority of human trafficking cases go uninvestigated or prosecuted. This initiative will provide law enforcement agencies with an app that runs on their tablet or smartphone, providing them with training, education, resources and key contact information on human trafficking."
"Human trafficking is a heinous and unthinkable crime that presents investigative challenges that are extremely difficult to address in today's world," Patel said. "HSI Newark is proud to join the Montclair State University Global Center on Human Trafficking in this initiative to provide available victim services and additional human trafficking information to law enforcement agencies who may encounter victims of human trafficking throughout the state of New Jersey. Working together is the best way to achieve our goals of investigating human trafficking and connecting survivors of human trafficking to the services they deserve."
Meanwhile, Suarez, who was present as a representative of all 21 district attorneys, spoke very positively about the new program and offered it broad support.
"Human trafficking is a heinous crime of exploitation that knows no borders and far too often goes undetected or unreported," Suarez told The Observer. "On behalf of the 21 District Attorneys of New Jersey, we thank Homeland Security Investigations Newark and the Global Center on Human Trafficking at Montclair State University for developing this tool to better assist law enforcement in the fight against human trafficking, and we stand ready to do so." support initiative in any way necessary."
Kevin A Canessa Jr is an editor and broadcaster at The Observer, where he has worked part-time since 2006. He is responsible for the editorial content of the newspaper and website, producing the e-newspaper and writing several articles per week (including the weekly editorial), running live broadcasts Facebook live, including a weekly roundup of the news – and much more behind the scenes. Between 2006 and 2008, he introduced the newspaper to their very first blog – which featured podcasts, audio and video. Originally from Jersey City, Kevin lived in Kearny until 2004, residing in Port St. Lucie. Florida, for four years through February 2016, and in March of that year he moved back to West Hudson to return to The Observer full-time. click here to email Kevin.
similar posts